Biostone Standard 0,1 Mikron Kolfilter
Här förklarar vi basen i våra Biostonefilter, vad dom är bra för och vilka olika användningsområden dom används till. Där vattenrening sker skall det skapa bäst möjliga vatten. Vi sätter stor vikt på filtret som sitter i en vattenmaskin då det är en mycket viktig komponent.
Vi skriver utförligt om Biostone kolfilter med kolfilterbas och komponenterna i filtret för att du enkelt skall kunna sortera bort mindre bra filterlösningar vid ditt val av vattenrenare.
Biostone Standard har numera utgått och ersatts av Biostone Plus som har bättre egenskaper. Den hittar du här!
Texten för Biostone Standard lämnas kvar så man kan sätta sig in i basen för våra filters egenskaper.
Jupiter Science Biostone kolfilter
Den senaste generationen av Biostone kolfilter från Jupiter Science representerar år av forskning och utveckling i deras forskningsanläggning i Japan. Rigorös kvalitetskontroll är kärnan i dessa avancerade kolfilter och Biostone kolfilter är tillverkade för att ge dig det allra bästa i vattenfiltrering! Se Biostone labbrapport i diagrammet nedan.  Standardfiltret Biostone 0,1 Mikronfilter producerar vatten som på många sätt överstiger vattenstandarden för buteljerat vatten. Biostone Ultrafilter 0.01 Mikron har en filtreringsresurs tio gånger den normala Biostone 0,1 Mikron. Vårt Ultrafilter har med andra ord en fantastisk filterkapacitet av 0,00001 mm. Oslagbart!
Schematisk bild av Biostone standard 0,1 Mikron
Biostone kolfilter finns i tre modeller: Standard 0.1 Mikron visas i bilden ovan Ultra Biostone 0.01 Mikron och Biostone ACF.  Alla filter kan användas för alla de senaste Jupiter Science jonisatorer, även Jupiter Venus och räcker ca 6 till 9 månader eller ca 4500 liter vatten. Detta varierar beroende på vilket vatten man har hemma /på jobbet då vattenrening kan skapa bakteriehärdar eller stopp i filtren. Våra vattenrenare med jonisering har en filterindikator som håller reda på mängden vatten som filtreras och kommer att berätta när kolfiltret behöver bytas! Ett annat gott tecken på att byta kolfilter är när smaken på vattnet känns annorlunda och är mindre god! detta är viktigt och skall inte försummas i vattenrening.
Vad hjälper Biostone kolfilter mot?
Biostone kolfilter hjälper mot ca 2300 kända kemikalier, gaser, lösningar och föroreningar i vatten t.ex. många volatila kemikalier (VOC), pesticider och bekämpningsmedel, är utmärkta mot klor, bensen, trihalomethanföreningar, radon, lösningsmedel och hundratals andra syntetiska kemikalier som finns i kranvatten. Vissa kolfilter som är aktivt baserade på kol är måttligt effektiva till att undanröja vissa, men inte alla, tungmetaller. Dessutom tar komprimerade kolfilter mekaniskt bort partiklar och parasiter ner till 0,5 micron, inklusive Giardia och Cryptosporidium, turbiditet och andra partilklar. Biostone 0,01 Mikron tar bort 99,9 % av alla parasiter och virus du har i vattnet. Även om vissa järn, mangan och svavelväte kommer att tas bort av dessa högkvalitativa kolfilter, kan andra filter såsom specifika förfilter (sk AAA filter) varmt rekommenderas vilket då kopplas innan vattenmaskinen och ger dig ett mycket rent vatten.
Kolfilter är generellt inte bra på att avlägsna upplösta oorganiska ämnen och metaller som mineraler/salter (hårt vatten eller föroreningar som orsakar beläggningar), antimon, arsenik, asbest, barium, beryllium, kadmium, krom, koppar, fluor, kvicksilver, nickel, nitrater / nitrit, selen, svavel, tallium, och vissa radionuklider. Att ta bort dessa ämnen kräver antingen att ett förfilter installeras, ett omvänd osmos system eller att destillera vattnet (en viss del kan också tas bort med sk. KDF filter.
Speciella förfilter skall med fördel användas före det att vattnet når maskinen mot vatten som innehåller:
Flourid, Arsenik, Järn, Bly, Nitrater, Sulfat, Sediment (kraftig), för hårt vatten ( över 15tyska grader).
Dessa är inte dyra och kräver ingen svår installation. Vi jobbar för fullt att hitta en bra leverantör för att kunna ha ett  komplett soriment för alla slags vatten.
En stor fördel med förfilter är att dom kan kombineras på olika sätt för dom problemen du har hemma. T.ex kan ett filter för sediment kopplas först. Sedan kommer ett filter för järnet i vattnet och sist ett för medicinrester, bakterier. Se exemplet nedan. Förfilter kallas AAL filter och är standariserade varvid priserna är mycket låga. Vi har vissa filter, t.ex mot arsenik, Flourid, Sediment, För hårt vatten Ultrafilter för borttagning av parasiter mm.
Dubbelt förfilterhus visas                                              Trippelt förfilterhus
t.ex Sediment och Arsenik                           t.ex. Sediment, Flourid och Ultra micron mot parasiter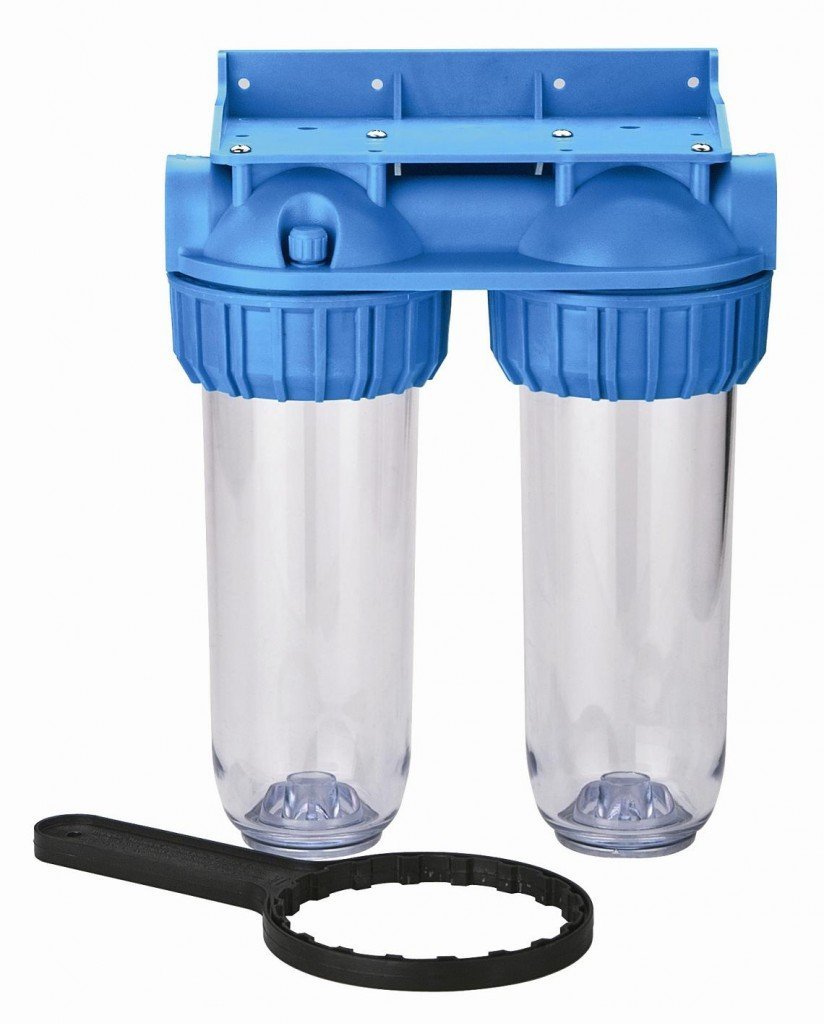 Fördelar med kolfilter :
– Mycket bra borttagning av VOC ( Volatila kemikalier), Radon, Klor, dålig dofter och smak, samt att det är väldigt kostnadseffektivt.
– Kolfilter anses som "Bästa möjliga teknologi" för vattenfiltrering av EPA (Amerikanska Naturvårdsverket).
– Kopplas med olika förfilter för  optimering av ditt problem.
– Kräver inget underhåll mer än vid själva filterbytet.
Nackdelar med kolfilter:
– Reguljärt byte av filtret är viktigt att göra. Våra Biostone filter har en livslängd på ca. 5000 liter.
– Risken för sönder- fall/oxidation av den adsorberade produkten i filtret.
– "Kanalisering" av mediet man filtrerar ( att filtret jobbar dåligt med problemet man har) vilket kan leda till lägre upptagnigsförmåga.
Hur är Biostone kolfilter uppbyggt?
Kolfilter tillverkas ifrån 20 mikron ner till 0,1 Mikrons grynighet. Ju lägre storlek (Mikron) desto mer effektivt är filtret. Biostone kolfilter har mycket hög kvalitet med ett aktivt kol med 0,1 Mikrons grynighet. Med andra ord är filtret mycket effektivt att ta bort partiklar vilket filterrapporter visat kontinuerligt.
Det aktiva kolet i båda våra Biostone kolfilter är av högsta kvalitet och är tillverkade av bränd kokosnöt. Denna är 20% dyrare än vanligt kol då den anses få högre absorbtion och därför vara mer effektiv. Den kommer från Storbritannien och är NSF certifierade.  Silver är impregnerat med kolet för att säkerställa att bakterier och virus inte växer där. Eftersom det är inbäddad eller impregnerat i kolet läcker inget silver ut i vattnet. Tester som utförts av Seoul Department of Health visar att inget silver frigörs från dessa filter.

Den naturliga kalkmineralen i filtret kommer från Japan och är certifierade av den japanska regeringen och innehåller magnesium som krävs för kalkassimilering.  Små mängder av korallkalk tillsätts till vattnet varje gång vattnet passerar genom filtret. Denna korallkalk är av högsta klass och kommer från miljömässigt godkänd markavsättning. Korallkalk hjälper inte bara till att mineralisera vattnet utan gör dessutom vattnet naturligt sötare och omvandlar flyktiga flormolekyler till en gynnsam förening (kalciumflourid).
Aragonitformen av korallkalken i våra Biostone kolfilter är mer kristallint och har en högre densitet än kalkspat och är hårdare och tätare vilket tillskrivas en tätare atomstruktur. Aragonit är också mycket mer vattenlösligt än kalciumkarbonat med 15 % mer upplöst kalciumkarbonat per liter vatten och lämnas kvar att lösas upp tills ett jämviktläge skapas.
Enligt professor Yoshino Yamauchi på Aragonit Institute of Japan,  "-Joniseringsprocessen av fossil Aragonitkorall är 6 gånger högre än hos kalkspat. Fossil korallkalk har dessutom mycket högre elektrisk ledningsförmåga … och den kan ingå en omedelbara kemisk reaktion varje gång det behövs av kroppen."
I lekmannatermer betyder detta att ovan nämnda havskorall ca 6 gånger mer biotillgängligt än andra värmebehandlade korallsorter.
Turmalin
Det keramiska Turmalinet som finns i  filtret tillverkas i Sydkorea och har koreanska Livsmedelsverkets certifiering. Turmalin är mycket hårt, 7,5 på Mohs skala och den keramiska formen är mycket slitstarkt och kommer aldrig att läcka ut till vattnet du dricker. Den samstämmiga storleken är också en fördel för att producera en elektrisk potential  genom det keramiska turmalinet vilket ökar effektiviteten i joniseringen.
Turmalin är piezoelektriskt (Ordet piezo-kommer från det grekiska ordet piezein och betyder att pressa hårt, pressa) som skapar en elektrisk potential när trycket tillämpas även i liten mängd som t.ex. vattentryck. Turmalin också är pyroelektriskt vilket betyder att en elektrisk potential skapas när en temperaturförändring inträffar. Ett exempel på detta är när kallt vatten passerar genom Biostonefiltret i rumstemperatur. Dessa elektriska fält hjälper till att jonisera och minska vattnets molekylgrupp när vattnet passerar genom filtret. Med andra ord bidrar Turmalinet till att på ett naturligt sätt producera ett levande vatten innan det går genom vattnenkammaren. På grund av de piezoelektriska u0026amp; pyroelektriska egenskaperna, används turmalin i elektroniska, medicinska, och vetenskapliga tillämpningar av många slag.
Turmalin har den unika egenskapen att avge en naturlig strålning i form av FIR eller Far Infra Red energi. Prefixet "infra" betyder "under" och hänvisar till de våglängder som är precis under den röda utgången av det synliga spektrumet, därav "infrarött".  FIR producerar en form av strålningsvärme som helt enkelt är en form av energi som värmer ett objekt direkt utan att värma upp den omgivande luften. Den strålande egenskapen Infraröd upptar den del av det elektromagnetiska spektrumet mellan synligt ljus och radiovågor. Det finns många, många hälsoprodukter som använder sig av FIR, däribland många vattenprodukter. Vatten kan absorbera infraröd strålning från en extern källa.  Detta fenomen kallas "resonant absortion." Denna absorption av elektromagnetiska frekvenser av FIR har en omedelbar och unik effekt på vatten, ger energi åt vattnet och minskar ytspänningen vilket underlättar joniseringen.
Turmalinet i Biostone filter läggs i en keramisk pärlform som är helt icke reaktiv. Denna kombination av Turmalinens hårdhet och att det ligger i ett keramiskt medium innebär att inget turmalin kan läcka ut i vattnet och fördelarna med den negativ joniseringen kvarstår.
Slutligen sätts alla ingredienser i filterhuset där det förseglas genom hög rörelse och värme friktion och därmed undviks behovet av eventuella skadliga kemikalier i ditt kolfilter.
Livslängd: 4000-4500 liter
Biostone Standard har utgått och ersatts av Biostone Plus
som har bättre egenskaper. Den hittar du här